Kyron Warrick
Montreal raised influencer Kyron Warrick @gotsweige stopped by the studio for a photoshoot &amp interview, giving insight into his day-to-day life, what he's listening to, brands to watch out for, Caribbean restaurants, Ian Connor and much more.
Kyron Warrick, 19 years young.
From Montreal but born in Philly, raised in Lasalle, but bounced to St-Henri.
So, you have that U.S Visa?
Yeah. [laughs] Duel citizenship. After I'm done college out here, I might dip.
Cool, what's on your playlist right now?
Lil Uzi Vert, I listen to Lil Yachty, Playboi Carti, Drake, Asap, Ye is cool too, that's off the top, but anything on Soundcloud. I like listening to new artists too, like local artists such as Frap Boyz.
What brands are on your radar?
My Friends brand in Minnesota; WhoisJacov, that's this jacket I'm wearing right now. I usually wear my friends' brands or designer clothing that I've been accumulating over time.
"I love being able to
resell and recycle
my clothing"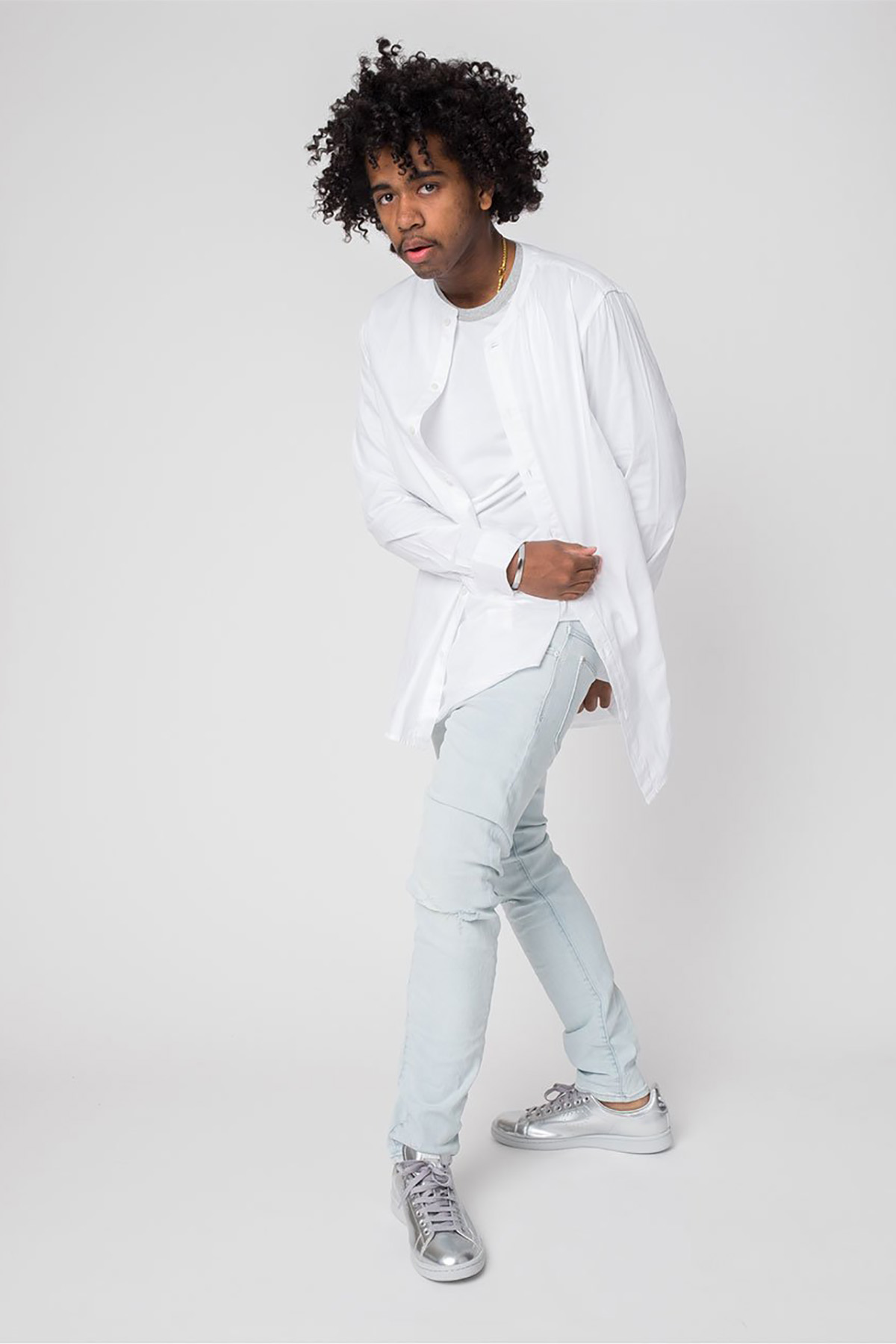 Raf, Rick Owens, but mostly footwear for Rick Owens, McQueen, Undercover, Number 9, I always swap it up.
Are there any fashion designers, or fashion enthusiasts that you look up too?
That I look up to? Um… designers? The people I named before, like Raf &amp Rick, I try not to look up to influencers too much because then I get influenced by them, but I respect everyone doing their own thing.
What are you obsessed with?
Damn. [laughs] We've been trying to hunt down every Caribbean food spot in Montreal, recently we've been finding a lot of them, we found one called Seasoned Dreams, we go there all the time, it's in between St-Henri and Lionel Groulx. We were out one night, and we were looking on Just Eat, and we saw Seasoned Dreams Caribbean food, and it was over.
Do you have a celebrity crush?
Yo, you know who? Amina Blue. My friend met her and got all up in her face on his Snapchat and was like "IIII LOOOOVEE YOUUUU". Yeah, she's attractive.
How do you like Yeezy Season overall?
I like Season 2 the most. He's doing a good thing overall, like trying to lower the prices. What he did with the 350 boosts, bringing it from a 1.0 to a 2.0 with the support, he listens to people's opinions which is good.
How do you feel about Ian Connor bringing back Pastelle?
Um… It's cool. I'm excited to see what he does cause right now it's just a t-shirt and the recreation of the jacket but so far it looks good, he has a creative eye so he's not a person to take lightly.
What made you pursue fashion as a career?
Well, I realized skateboarding wasn't going to take off [laughs] and it's not really something you can put all your efforts into. I noticed at like 14 I could dress nice, so I was like ok, maybe this is something I can really make money off of and turn something I love into your career.
What were the first things you copped, and you were like I'm addicted?
That's crazy. When I noticed things were more than 100$. [laughs] I love being able to resell and recycle my clothing, and cop new stuff, like I love Grailed. It's the best thing ever. But something I love that I copped was like the Rick Owens kicks, it took a long time to get them, so it was exciting.
Outside of fashion is there any career you would want to pursue?
Yeah like the entertainment industry is always fun, I'm managing two of my friends, ones a DJ and ones a Rapper. If I wasn't in fashion than yeah, I would be managing or something like that.
I think that's it. That's all the questions.
Cool. Do I press stop on this?